SAMEBIKE LOTDM200-IT
It is the go-anywhere urban electric bike. Equipped with 18650 car battery cell ,a 500W powerful motor and a 50Nm torque, it has been optimized by the SAMEBIKE team for a smooth, effortless riding experience even at 20 degrees uphill. You might like to take a little less time on the commute quickly into town for shopping or simply tackle headwinds on the trail.
500W BRUSHLESS MOTOR
Permanent magnet synchronous high-speed motor with brushless power system, output 70 torque and strong power. Power your life with max speed 25~35kmh; Enjoy effortless riding experience even at 20 degrees uphill. You'll no longer think: "too far," "too hilly," or "too sweaty."Just enjoy the wind and and crush your commute to work on Monday.
LONG-RANGE BATTERY
Adopt 18650 high performance car battery cell, Same battery,40% more longer riding rang;48v 10Ah stable and strong output.you can always enjoy a longer trip that takes you up to 30~60 miles on a single charge. More than 1000 charging cycles, With over charge and power off protection,It is globally insured by CPIC.
PEDAL ASSIST & THROTTLE
With seven levels of pedal assist, getting yourself anywhere on the folding electric bicycle can be as much of, or as easy, a workout as you want. If you need that little extra boost to get you home, or just want to enjoy the scenery, then the throttle function will take care of powering you along.
ALL TERRAIN FAT TIRES
Four bar system with suspension fork and stable 4″ fat tire, will absorb even the harshest terrain and provide you with a level of ride comfort. It turns the way to the grocery store/cafe/work/school into your playground!!!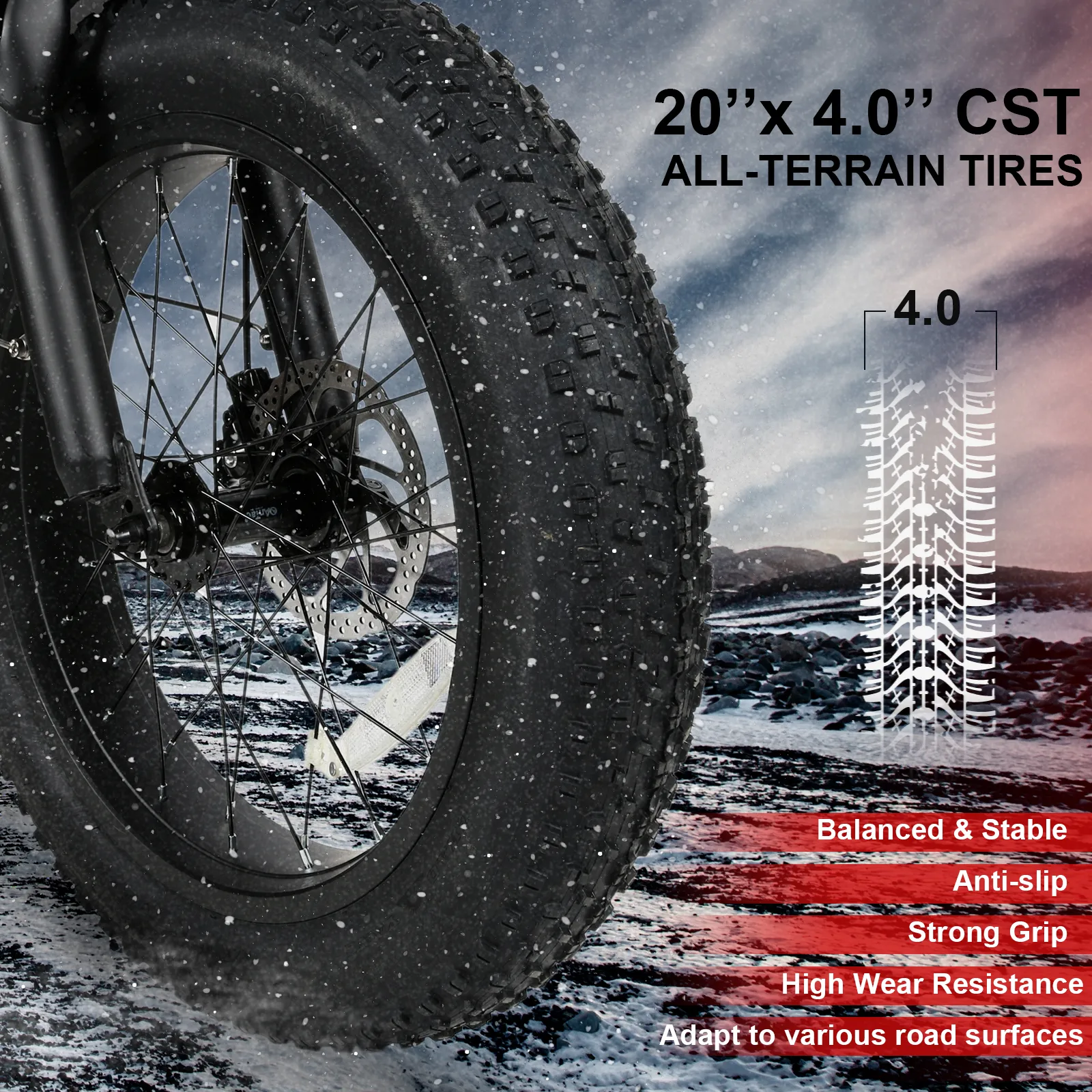 FOLDING EBIKE
Take your ebike anywhere, without the need for a bike rack. The electric folding bike will fold up and fit in your trunk, in your closet, and even under your desk.